OUR 2021 BERKELEY KITE FESTIVAL IS CANCELED
Presented by www.HighlineKites.com
KITE FEST UP-DATE:
We are sad to report that due to Covid-19 there will be no Berkeley Kite Festival this summer. The City of Berkeley would not grant us a permit for an event of this size.
The good news is that kite flying is some all of us can do, and it is a great way to get outdoors in a safe and healthy way. We hope that our Kite Shop on Wheels can be of service to our community especially during these challenging times. Our kite shop is open at the Marina's Cesar E Chavez Park every weekend 1:30pm-6:30pm.

KITE FLYING NOW:
Getting outdoors with those we love has never been more important than it is today. The simple act of being active outdoors can boost our immune system. We're certain that each of us could use a little extra boost this summer.
Making and flying kites are amazing ways to safely engage with our environment and with those we love. We hope that our free kite making program can help families get their kids away from their screen and looking up, even if just for a little while.
IS YOUR KITE SHOP ON WHEELS STILL OPEN AT THE MARINA'A CHAVEZ PARK?
Yes, Highline Kites Kite Shop on Wheels is open at Cesar E Chaves Park every weekend from 1:30pm - 6:30pm.
Though there is no Berkeley Kite Festival, we encourage everyone to fly kites whenever they can. Our mission is to encourage local residents to gather outdoors within their closest familiar/household circles and fly kites together. This can be done at parks and beaches throughout California. (All of this can be done while observing social distance and utilizing masks where appropriate.) In our small groups we will be connecting with the universal wind and flying higher together. And with a bit of luck, we will be reminded to keep looking up.
NOTES FROM OUR FESTIVAL FOUNDER, TOM McALISTER:
Though we don't in any way want to diminish the challenges facing us today, it really is this simple: getting outdoors, flying a kite, and looking up are good for us. They have always been good for us, and are more important now than ever before.
For over three decades, the Berkeley Kite Festival has been an important part of the rich cultural heritage and diversity that make Berkeley such an exciting place to live. We will miss seeing all of you, and will especially miss working with our volunteer team that tops 100 members. Best wishes and health to all of you.
Here at HighlineKites.com we hope that our efforts to encourage kite flying and kite making this summer can do just a little bit to make our world brighter, stronger, today and into the future.
Stay Safe and Happy Flying,
Tom McAlister and the Berkeley Kite Festival Team
We invite you to become part of our Berkeley Kite Festival where the earth, wind, and sky combine to create an unequaled festival experience. During the past 30 years, the Berkeley Kite Festival has developed a soaring reputation as one of the premier free family festivals on the West Coast.
When we started the Berkeley Kite Festival 30 years ago we could never have imagined what a wonderfully vibrant spectacle it would become. We hope you can join for this one-of-a-kind event, which brings our community together in a fantastic and dynamic way.
Sincerely,
Tom McAlister
Owner of Highline Kites and founder of the Berkeley Kite Festival
____________________________________________________________________________________________________
When Sharing Your Memories on Twitter or Instagram use
#BerkeleyKiteFestival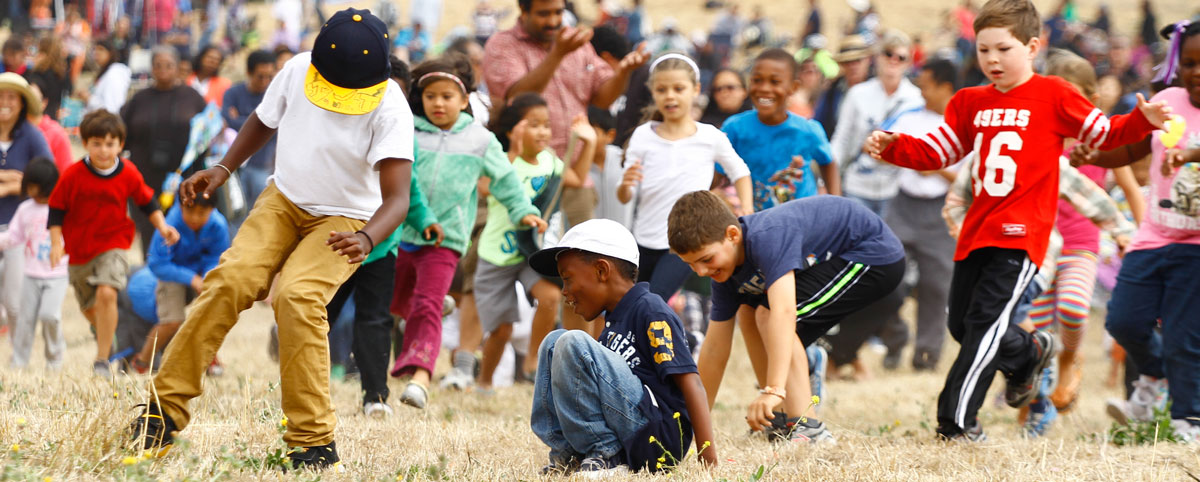 FREE SHUTTLES FROM GOLDEN GATE FIELDS
___________________________________________________________________________________________________________

Q U I C K L I N K S
Top 10 Questions - Press Basics
Parking & Transit - Free Valet Bike Parking
B U Y A K I T E A T K I T E F E S T
Best Selling Kites in our Kite Sales Tent

H I G H L I G H T S
Free Kite Making - Free Candy Drop - Free Kite Lessons
Kite Team of Japan - Giant Creature Kite Expo - Rokkaku Battle
Great Food & Music - Team Kite Flying - Discount Lodging
Sunday Dinner Cruise on the Bay
BACK FOR A SECOND YEAR!
Join the Clean Team Get the Special Collector's Button!
I N O U R K I D S ' Z O N E
Bounce Houses - Petting Zoo - Pony Rides - Arts & Crafts - Face Painting
L I V E M U S I C
Taiko Drummers
___________________________________________________________________________________________________________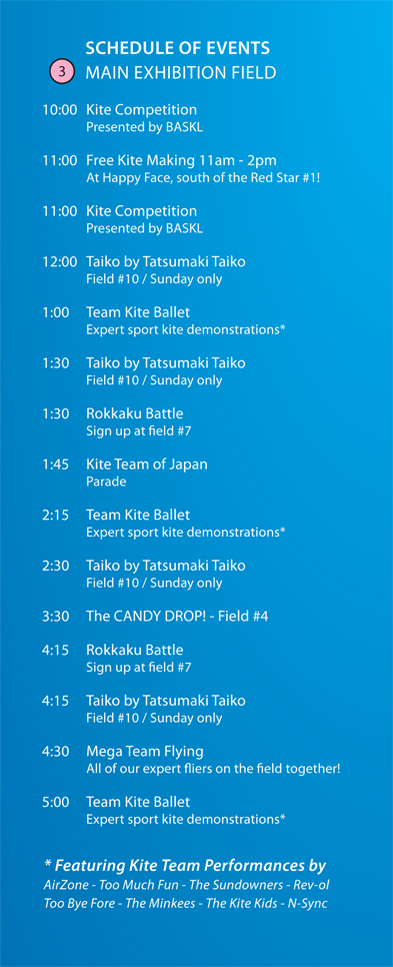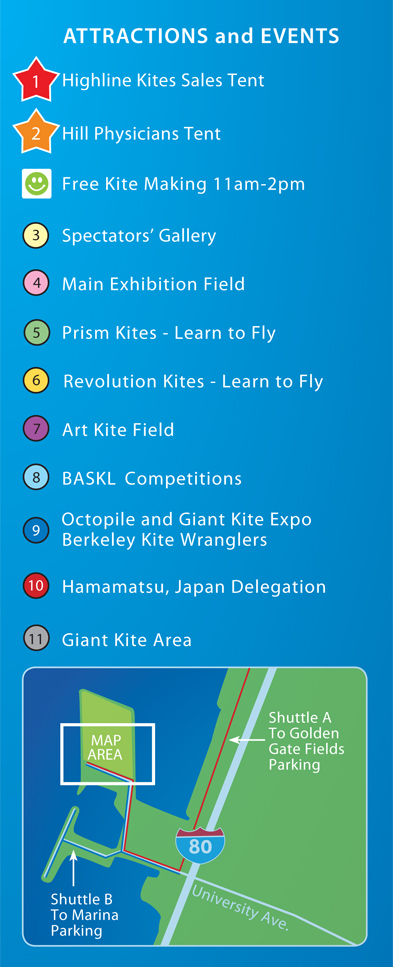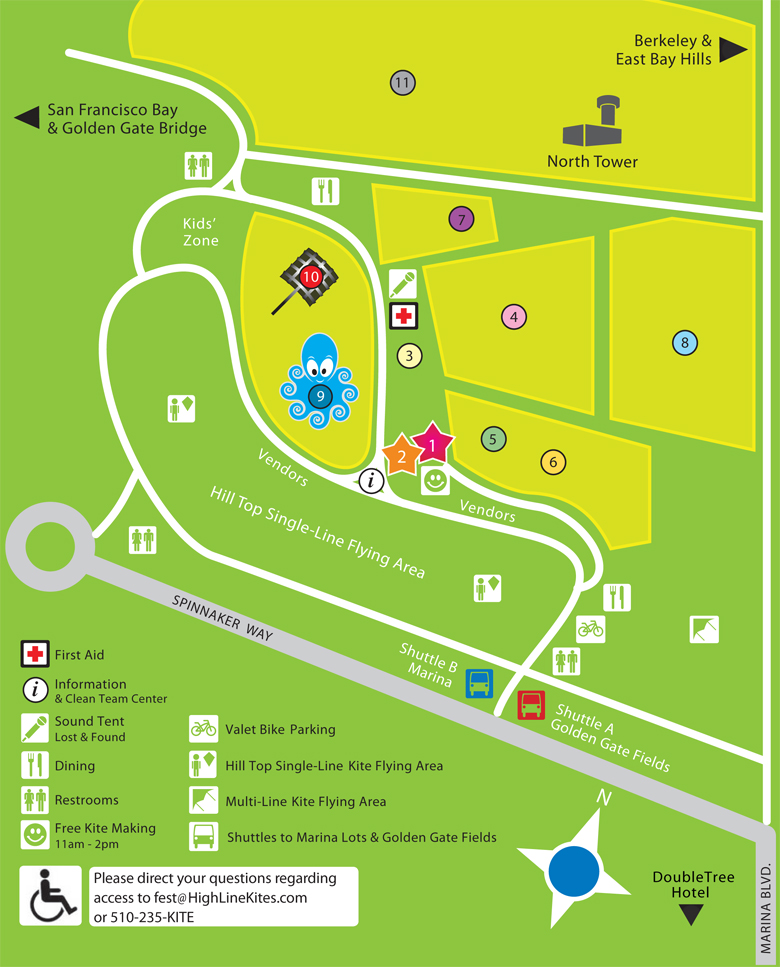 ___________________________________________________________________________________________________________
A walk through the Berkeley Kite Festival
| | | |
| --- | --- | --- |
| | At the Berkeley Kite Festival it seems that a fresh surprise awaits around every corner. In one amphitheater you'll find multi-line competitions of the Bay Area Sport Kite League. In another you'll find events and other competitions, such as the candy drops and rokkaku battles. Look to the north and you will see the traditional kites of our special guests from the Sode-cho Kite-Flying Society of Hamamatsu, Japan. In the upper field you'll enjoy the giant creature kite show of the Berkeley Kite Wranglers and Friends. | |
| | | |
| --- | --- | --- |
| | Just down the hill from the Wrangler Field, visitors can get hands-on demonstrations of all the latest products from Ozone Kites, Revolution Kites and Prism Designs. Backing up the demo fields is the giant HighlineKites.com tent, where you can get the best kites. Behind the kite tent you'll see hundreds of kids enjoying the free kite making and behind them, a designated area along the ridge for families and their kites. Each area of the festival will give you a different taste of what kiting has to offer. If you find that your stomach should start to growl, simply follow ridgeline west to the widest array of food offerings ever seen at the BKF. Need a full meal? How about sushi, Thai food or seafood? Just want a snack? How about corn on the cob, pretzels or our favorite, Ben & Jerry's ice cream? Everything looks so good, you'll wish you could have one of each! | |

_____________________________________________________________________________________________________________

Special thanks to the following sponsors and contributors
____________________________________________________________________________________________________________